Back in 2015, I participated in the Shabby Chic Mix & Match Design Challenge for Chairish, an online marketplace for vintage and used furniture. Chairish has now expanded with a sister website called DECASO, which features an ultra-curated selection of exceptional antique and designer furniture offered by the world's most respected dealers.
To celebrate the launch of DECASO, I have accepted to participate in their Interior Design Bucket List Challenge. (Thanks for inviting me Gabrielle! ) The collections are definitely a lot more upscale and pricier (some items are out-of-this-world crazy expensive). So, I have been asked to pick my bucket list items from DECASO'S collection and put together my dream space. Uh…yeah! So with a virtual unlimited budget in hand — ta da — here is My Bucket List picks: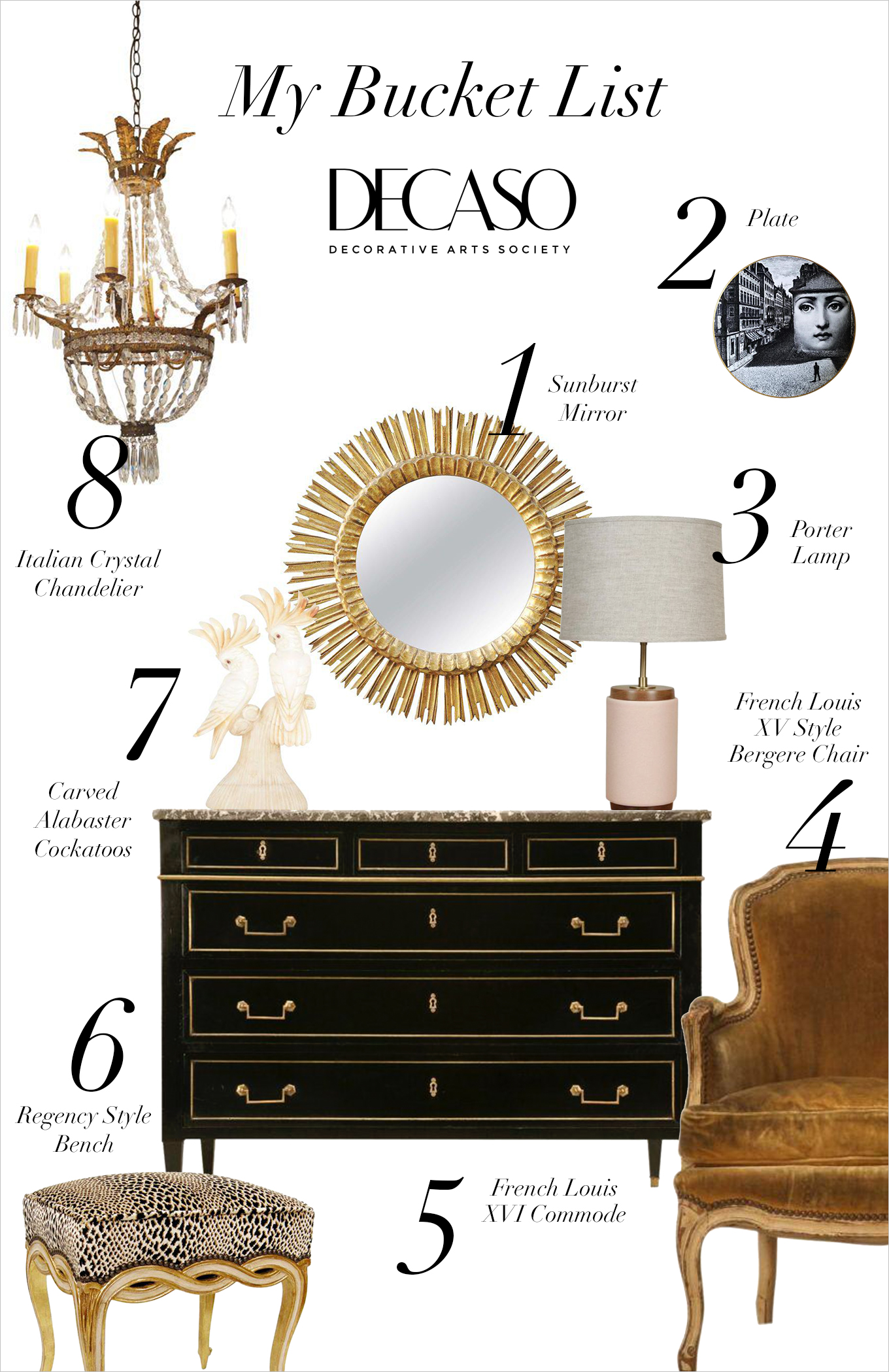 1 Sunburst Mirror  2 Rosenthal Fornasetti Temi E Variazioni Motiv 5 Plate, 1980s  3 Porter Lamp by Stone and Sawyer  4 Antique French Louis XV Style Bergere Chair in Old Paint  5 Antique French Louis XVI Ebonized Mahogany 3 Over 3 Commode w/Marble  6 Regency Style Designer Taboret Bench by Randy Esada Designs  7 Two Spirited Carved Alabaster Cockatoos Perched on a Branch  8 Italian Neoclassical Gilt Tole and Crystal Chandelier
The inspiration and starting point for my dream space was the French Louis XVI commode. Isn't it gorgeous? Very bold, but yet sleek and sophisticated for my girly taste. I must admit that in addition to my obsession with glass domes/cloches, my next home décor hoarding compulsion is anything in the shape of star/sunbursts. I just love the 'celestial' mirror. The Antique French Louis XV Style chair has a bit more 'patina' than I would like, but the colour of it is divine — like butterscotch or caramel, which I prefer to call 'old gold'. I read somewhere in a decorating magazine that every room needs something whimsical and these cockatoos fit that perfectly.
Awww, now I wish my bucket list was 'for real'. Thanks DECASO for letting me dream!